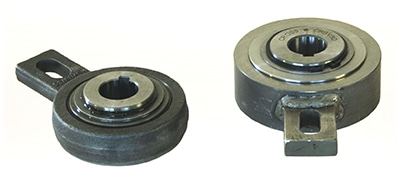 Backstop Clutches CR/BV, CR/BT and CR/BW

Back to

Category
Backstop Clutches CR/BV, CR/BT and CR/BW
These series of Clutches are specifically designed for backstop applications, for simple fitting to Conveyor and Elevator Headshafts. Their design allows easy installation on new or existing equipment.
Backstop Clutches
All Clutches have an integral Torque Arm with a slot to engage with a bolt or bar fixed to the machine framework.(except CR/BV90 to 120). Units are greased for life, and fitted with labyrinth seals for operation in dusty conditions. Units can be mounted on horizontal or vertical shafts, of 20mm to 120mm, and with torque up to 18450Nm.
CR/BW series have caged Sprags to provide high torque capacity at a low unit cost. Bearing support is by plain metal bushes, with O' Ring seals to retain the grease, whilst excluding dust and moisture.
CR/BT series also use Sprags for torque transmission, but inter-spaced with rollers to provide bearing support. Whilst this reduces torque capacity a little, the superior bearing support enables higher shaft speeds and longer life.
CR/BV series use Roller Ramp design for torque transmission providing a long service life. Sealing is by shield protected labyrinth seals. These units can also be used for slow speed indexing applications.
All these clutches are totally maintenance free, and therefore suited to remote locations.