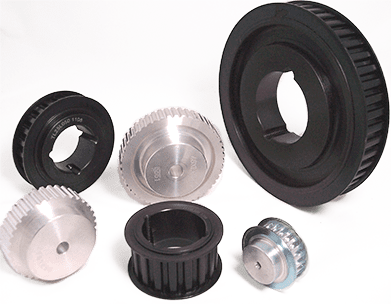 Classical Timing Belt Drives

Back to

Category
Classical Timing Belt Drives
These are the original tooth belt drives, introduced for the transmission of low torque instrumentation drives more than forty years ago, and since developed and adopted for millions of drive applications. Eight different pitch configurations were produced, but later belt designs have eliminated the demand for all but three sizes.
Classical Timing Belts
Cross+Morse offer complete drives to 1/5" (XL), 3/8" (L), and 1/2" (H) pitch sizes with both pilot bored and taper bored pulleys. Drives to other configurations can be supplied to order. The Classical Timing Belt is the ideal low cost drive for powers up to 25 KW with a wide range of both belts and pulleys available from stock. Double sided belts and open ended belts can also be supplied.
Classical Timing Belt Pulleys
Classical Timing Belt Pulleys have evenly spaced grooves cut in their periphery, to make correct, positive engagement with the mating teeth of the belt. Cross+Morse pulleys are manufactured with involute groove form to enable the teeth to enter and leave the pulley with negligible friction and minimum backlash. Pulleys are available in a number of stock widths and large selection of numbers of teeth to provide maximum versatility in drive selection. Pulleys for 3/8" pitch 'L', and 1/2" pitch 'H', drives are available with pilot bore for reworking to customers requirements or with taper bush for the complete off the shelf drive. All pulleys are precision manufactured to close tolerances to ensure concentric running.