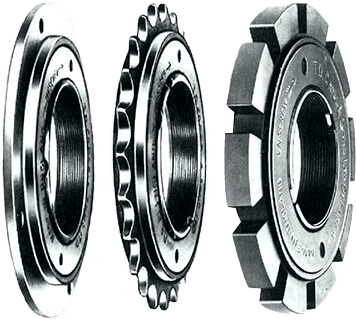 Industrial Ratchet Freewheels and Adaptors

Back to

Category
Industrial Ratchet Freewheels and Adaptors
Cross+Morse offer IRF Clutches with external mounting flange and IRF sprockets to suit standard BS Series chains. We also have steel adaptors for industrial ratchet freewheel available.
Industrial Ratchet Freewheels and Adaptors
A ratchet and pawl mechanism is used with materials and heat treatment selected for a long operating life, with safe, positive transmission. IRF's are suited to low speed (up to 150 r.p.m.) overrun applications where shock loads may be encountered, such as Agricultural machinery.
Standard stock units are available in two configurations; as standard sprocket for 1/2 inch pitch chains, or with a drilled flange to fit conveyor rollers, pulleys, or wheels. Standard units have threaded bore to cycle standards, but a range of Adaptors enable fitting to keyed shafting. IRF clutches are also stocked in part-assembled condition for reworking to custom design, including finish parallel bore and keyseat. Many special Industrial Ratchet Freewheels have been manufactured to meet customers' requirements with torques over 1,000 Nm.