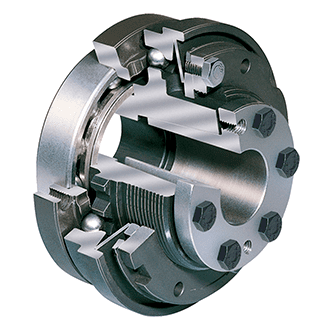 Safegard Type CZ/CN Overload Clutches and Couplings

Back to

Category
Safegard Type CZ/CN Overload Clutches and Couplings
Zero backlash Overload Clutches and Couplings, series CZ and CN, available in 8 different basic types, and 12 basic sizes, for shaft diameters from 8mm to 60mm; providing Overload Protection for Torque values from 5Nm to 740Nm.
The CZ and CN series Safegard overload clutches
The series was developed to provide a totally backlash free transmission of power with a very responsive overload protection. These compact units are directly interchangeable with existing designs in the market providing a cost advantage with long reliable service life. Two basic modes of operation are available, the basic CZF/CNF Safegard ratchetting design with the driving balls equally spaced so that clutch can re-engage after a small angle of rotation, and the Synchron CZY/CNY design with the balls unequally spaced so that clutch can only re-engage after a full revolution so providing full synchronisation between driver and driven. Responsive overload reaction is obtained by the use of negative functioning Disc Springs to apply drive load. In the event of an overload the spring load actually decreases, allowing faster dis-engaging of the drive, and minimal pressure on the driving surface in the dis-engaged mode.
Series CZ Safegard overload couplings
Cross+Morse offer CZ Zero Backlash overload clutches combined with a torsionally stiff steel disc coupling for ultimate shaft-to-shaft positional accuracy or an Elastomeric coupling.