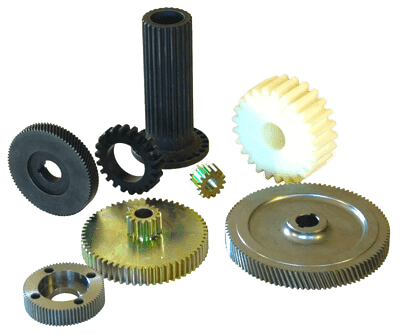 Special Custom-Made Gear Products

Back to

Category
Special Custom-Made Gear Products
For those applications where standard gears cannot be used, special gears and racks can be manufactured to customers' specifications: bevel, mitre, spur, straight racks, internal splines & serrations.
Special Custom-Made Gear Products
Mitre and Bevel Gears: Straight cut gears to the Gleason system up to 500mm diameter, in a variety of materials.
Spur Gears: In diametrical, circular or module pitches with tooling available most pitch sizes in both 141/2° and 20° pressure angle for gears up to 730mm diameter.
Helical Gears: With helix angles up to 45° and pitch diameter up to 710mm.
Straight Racks: Racks of Module or Diametrical (DP) pitches can be supplied up to 2 Metre length and pitch up to 5 Mod or 5 D.P.
Internal Gears and Splines: Hubs up to 635mm can be machined to a depth of 100mm either standard spur gear or internal splines.
Splines and Serrations: Involute, flat root, or fillet root splines and serrations can be cut on machined shafts or customer blanks.
Special Gearboxes: Custom designed gear systems can be supplied to suit individual drive requirements, using spur gears, helical gears, or inverted tooth chain. Shaft centres to 11/2 metres and power ratings to 1000KW have been provided. We welcome the opportunity to quote for your requirements.