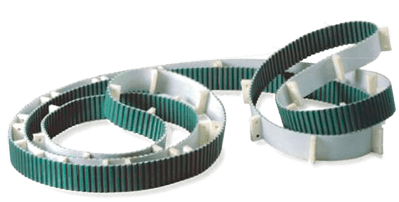 Clamping Plates and Timing Bars - Special Belts

Back to

Category
Clamping Plates and Timing Bars - Special Belts
We offer a standard range of clamping plates and timing bars, as well as top quality belts of various coatings with cleats or holes for fittings. Special belts for the glass, tobacco, nappy, packaging, paper, carton, conveyor, lift and fish industry can be manufactured on request.
Timing Belts Clamping Plates and Timing Bars
Timing Belt Clamping Plates
For the simple retention of open ended timing belts used on conveying or reciprocating drives, a standard range of clamping plates is available for all the heavier pitch belts. Manufactured in aluminium, these clamping plates provide accurate, location of the belts.
Timing Bars
These timing bars are designed for extra wide belt drives and to manufacture special pulleys. Available in standard tooth and bar sizes. All sizes are also available in aluminium, some also in steel.
Special Belts
Special Belts can be manufactured in a standard or coated condition to customer's specific requirements. Belts with punched holes and punched rectangular slots according to customer design for most packaging machines are also available. Please contact our technical department for details.
Cleated Belts - Special Moulded Belts - Vacuum Applications