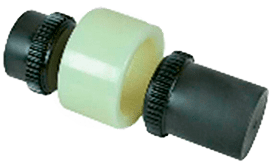 'GF' Series Polymer Gear Couplings

Back to

Category
Type GF Gear Couplings
Low cost, gear couplings for lower power applications, available in 10 sizes with torque capacity to 410Nm and shaft speeds up to 14,000 rpm.
'GF' Series Polymer Gear Couplings
The GF Coupling consists of two steel hubs with external crowned and barrelled gear teeth, phosphated for corrosion protection, connected by a synthetic resin sleeve. The sleeve is manufactured from high molecular weight polyamide, thermally conditioned and impregnated with solid lubricant to provide a long maintenance-free life. This sleeve has high resistance to atmospheric humidity and an operating temperature range of –20°C to +80°C with ability to withstand 120°C for short durations.
The GF Series Couplings are made with two hub lengths; a standard hub suitable for most applications, and a longer hub (ref GFL) designed to fit full length of shaft on standard motors. Hubs of different lengths can be combined in one coupling.