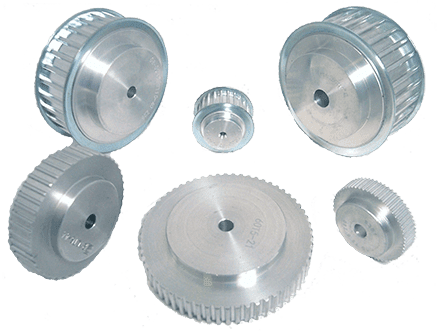 Polyurethane Timing Belt Drives

Back to

Category
Polyurethane Timing Belt Drives
These belts use steel tension cord encased in a polyurethane jacket with integral teeth. The method of manufacture ensures tight control of pitch length for applications where accurate positioning is required. Polyurethane is a non-crumbling, non-marking material with excellent resistance to mineral oils, greases and light acidic solutions making it an ideal material for food applications, on cigarette pressing machines and paper transporting systems.
Polyurethane Timing Belts
Polyurethane Timing Belts are offered in three standard metric pitches, 2.5mm, 5mm, and 10mm, and also standard imperial pitch, 1/5 " (XL). In addition to the standard single sided belts, double sided belts with moulded teeth on both sides of the belt can be supplied (T5 and T10 only) for multishaft, serpentine drives and some conveyor applications.The metric belts are offered in two designs 'T' and 'AT' series both using steel tension cords encased in the polyurethane jacket with integral drive teeth. The method of manufacture ensures close control of pitch length, which combined with the inelastic properties of the steel tension member create a belt drive with high positional accuracy resulting in these belts being popular for instrument drives, robotics, and servo mechanisms.
Pulleys for Metric Polyurethane Timing Belts
Cross+Morse offer the complete range of pulleys for T2.5, T5 and T10 Series belts in all the popular tooth sizes and standard width in pilot bore form ready for reboring and keywaying.
Designed to complete the power Transmission package for the enhanced power 'AT' series belts, are the Cross pilot bore stock pulleys for AT5 and AT10 belt drives. The 'AT' series belts provide increased power capacity in a Polyurethane belt by increasing the belt tooth size and also the tension members.