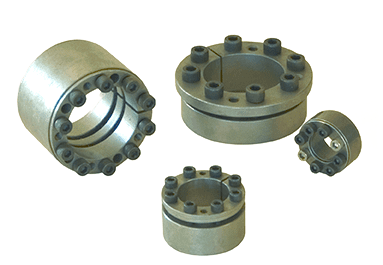 Clamping Elements Type RCK 15/13/16

Back to

Category
Clamping Elements Type RCK 15/13/16
Designed for use with standarised ranges of pulleys, sprockets and gears, with Standard General Purpose.
Clamping Elements Type RCK 15
Designed for use with standardised ranges of pulleys, sprockets, and gears, the shaft clamping elements can accommodate a large range of shaft diameters with a hub of constant bore diameter. On clamping precise axial and radial positioning is provided, combined with medium torque transmission capability.
Clamping Elements Type RCK 13
These shaft clamping elements are very compact units capable of transmitting medium torques. Their design ensures good concentricity between hubs and shafts, without any other means of location. A slight axial movement between hub and shaft occurs during clamping. These units can be installed totally within the hub providing optimum safety, and minimal axial length.
Clamping Elements Type RCK 16
These clamping elements are basically to same design as RCK 13, but with increased diameter flange to locate hub and prevent axial movements, so combining good concentricity with positive axial location. The increase in friction between the cones due to axial restriction results in torque reduction of approx 20%, but this also means reduced surface pressures to both hub and shaft.