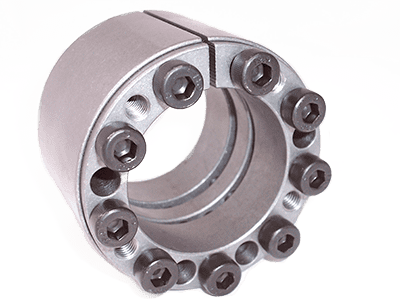 Stainless Steel Shaft Clamping Elements

Back to

Category
Stainless Steel Shaft Clamping Elements
Cross+Morse offers a new range of Stainless Steel Shaft Clamping Elements.
Clamping Elements Type RCK 80 - Stainless Steel
Available from Cross+Morse for shaft diameters from 10 to 50mm, these stainless steel shaft clamping elements or locking bushes are designed to fit into small diameter hubs, being particularly suited to light duty - light torque applications. A spacer ring prevents axial movement during clamping and design ensures good levels of concentricity. For correct operation of these units the hub diameter should not be less than the flange diameter D2, even though with many materials stress limits would allow selection of smaller hub diameters.
Clamping Elements Type RCK 40 - Stainless Steel
These are the original type of shaft clamping elements, proven in a wide range of applications and available for shaft diameters from 20 to 50mm. Suited to more general applications, this series provides medium torque transmission, which can be increased by mounting the unit in series. This type does not provide self-centring, and therefore other methods of centring the hub to the shaft are required. The units do not move axially during clamping and generally self-release when clamping screws are relaxed. Call Cross+Morse for more information.
Clamping Elements Type RCK 61 - Stainless Steel
Available from Cross+Morse for shaft diameters from 6 to 40mm, these clamping elements are designed for small low-torque applications, providing concentric connection of components to shafting. The thin wall design combined with low hub pressures enable use within small hub diameters. The design is intended that the units fit totally within the hub bore to provide safe surface. Some axial movement will occur when the units are clamped.