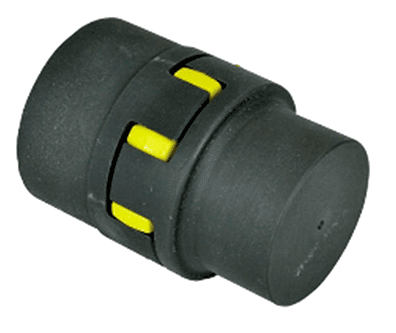 'GE' Series Couplings Low Backlash Jaw Couplings

Back to

Category
'GE' Series Couplings Low Backlash Jaw Couplings
The GE series of flexible couplings consist of two machined metal hubs connected by an elastomeric gear ring.
GE Series Elastomeric Couplings
The couplings are equally suited to horizontal or vertical shaft applications, providing positive power transmission and absorbing torsional, vibration and impact loads. The standard elastomeric ring is a black thermoplastic rubber of 94 shore A hardness selected for its resistance to wear, oil, chemicals, ozone and hydrolysis, which makes it suitable for tropical climates. Standard couplings can work in environments with temperature range –40°C to +125°C and withstand +150°C for short periods. The teeth of the gear ring are of involute form to prevent high stress concentrations in reduced surfaces, and crowned to avoid edge pressure on the teeth. The circular apertures on each hub are precision-machined to provide positive torque transmission with minimum backlash.
For increased torsional rigidity two alternative gear rings are available, both of 96 Shore a hardness; a red thermoplastic rubber element, and a yellow polyurethane element recommended for the Aluminium Hubs. GE Plain Bore Couplings are manufactured in two materials, Grade 250 Cast Iron for normal industrial applications, and aluminium where weight and inertias must be kept to a minimum. Two styles of hub are offered: 'A' style with hub diameter reduced below flange diameter to minimise weight; and 'B' style with hub diameter basically the same as the flange diameter to accommodate larger diameter shafts of electric motors and gear units. Different styles of hub can be mixed to accommodate differing shaft requirements. The hubs are identified by the maximum bore which can be accommodated, and hub style, i.e. GE24A is an 'A' type hub capable of max. bore size 24mm. Hubs of different styles can be combined in one coupling.