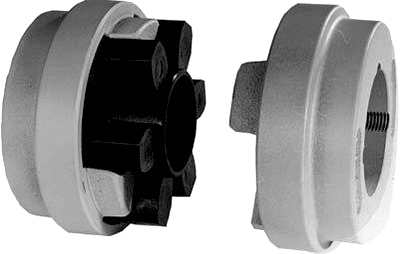 'KE' Series Couplings Heavy-duty Elastomeric Jaw Couplings

Back to

Category
KE Series Elastomeric Couplings
The coupling consists of two machined cast iron hubs connected by an elastomeric gear ring.
'KE' Series Couplings Heavy-duty Elastomeric Jaw Couplings
Available in 8 basic sizes, with torque capacity to 3300 Nm, the KE coupling provides positive power transmission between shafts, combined with the ability to accommodate moderate levels of misalignment. KE couplings are designed to transmit torques equal to the capabilities of sizes of commercial shafting which can be accommodated. Available either with parallel bore or with taper bush, these couplings are quick and easy to assemble with the machined outer flanges enabling simple alignment with just a straight edge. The elastomeric gear ring is moulded in Pebax R Polyether which is oil resistant, has a partial resistance to chemicals, and a low moisture absorption rate. The gear ring cushions transient peak torques, effectively reducing transmission of operational vibrations and shock loads. Standard couplings can be operated in environmental temperatures ranging from –40°C to +85°C.