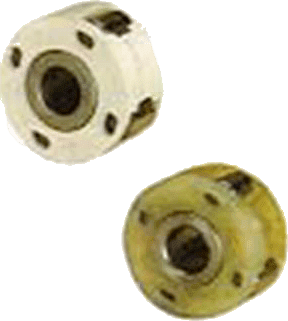 Compact Freewheel Clutches KI, ASK and GFK

Back to

Category
Compact Freewheel Clutches KI, ASK and GFK
These three series of Freewheels have a very compact design that makes them economical and therefore ideal for big volume machines.
Type KI - Miniature Roller Ramp Freewheel
The KI Series are self-contained units with inner race, springs and rollers contained in a polyamide cage suitable for temperature range -40°C to +120°C. Designed for small office Equipment and packaging machines, the clutch can be pressed onto shaft to r6 tolerance, with outer driving any steel component with H7 tolerance bore and bearing support.
Type ASK - Combined Roller Bearing and Roller Ramp Clutch
The ASK series are roller ramp freewheels supported by two rows of roller bearings, the complete unit being within a dust proof enclosure conforming to 60 series bearing dimensions. They are supplied ready grease lubricated. Torque transmission is by press fit with outer housing to K6 tolerance and shaft to h6 or j6. These units must not be subject to axial loading.
Type GFK - Ball and Roller Bearing Sprag Clutches
The GFK clutch combines a sprag unit with a roller bearing and ball bearing into a unit which dimensionally equates to a 59 series bearing. The design provides high torque capacity and bearing strength within a compact unit. Torque transmission is by press fit with outer housing bore to R6 tolerance and shaft to p5 tolerance. The unit has operating temperature range of -40°C to +130°C, and is supplied ready grease lubricated. For dusty environment external sealing is required.