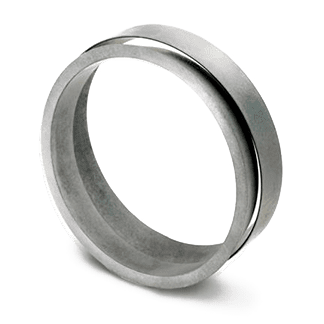 Clamping Elements Type RCK 50 CCE 54/55

Back to

Category
Clamping Elements Type RCK 50 CCE 54/55
Clamping Elements Type RCK 50
These shaft clamping elements consist of just two conical rings which require the minimum of radial space, so providing compact assemblies, and enabling use within small hub diameters. The design offers the maximum versatility of design, but does require the customer to provide their own thrust ring assembly. Whilst only providing low torque transmission per unit they can be combined (up to 4 units) to increase torque capacity. When fully clamped these units provide excellent gastight sealing. Many designs of thrust rings are possible and sketches to the left are two typical designs. These units do not self centre, so require external means of centring the hub.
Clamping Elements Types CCE 54 and CCE 55
These clamping elements use a single lock nut to apply the clamping pressure, thereby enabling quick assembly and removal. The lock nut can be secured in position by bending over a tab of lock washer. The thin walls of the clamping cones, combined with low hub pressures enables use with soft materials, such as aluminium, and small hub diameters.