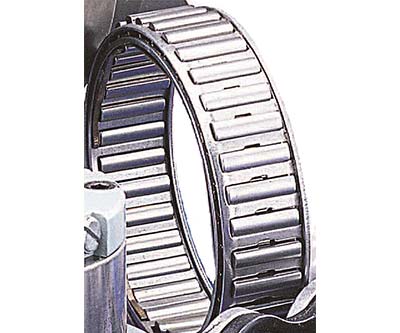 Sprag Elements - BW units

Back to

Category
Sprag Elements - BW units
Their unit construction enables easy assembly into cylindrical inner and outer races to provide a complete clutch suitable for most overrunning, backstopping and indexing applications.
BW Sprags Elements
The sprags are individually energised by a brass ribbon spring, but their relative movement to one another is controlled by the double cage design to ensure load sharing and prevent de-phasing of individual sprags. Standard sprags are manufactured from 52100 bearing steels. Two basic designs of sprag are available, disengaging types (Diseng.) where the sprag lifts-off from the inner race when the outer is rotated at high speeds, and engaging types (Eng.) where the contact forces between sprag and inner race increase as the outer race is rotated. The sprag element is designed to rotate with the outer housing, this being essential for correct operation of the unit. In applications with rapid speed changes additional clamping of the element to the housing is essential and this is achieved by clips/T bars fixed to the outer cage.
Sprag elements are best applied where high torque transmission is required, but space is limited, and where direct installation into machine parts is required. The clutches double cage design makes them particularly suitable where torsional vibrations are present. Ability to control the operating characteristics has made them suitable for a wide range of applications including turbine starters, marine drives, gearbox backstops, winches, printing machines and machine tools.