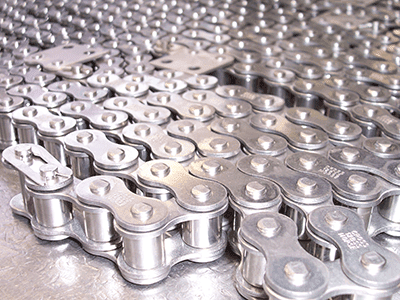 Stainless Steel Chain & Sprockets

Back to

Category
Stainless Steel Chain & Sprockets
Cross+Morse SS - Stainless Steel chain has been designed with a higher allowable load than other makes of stainless steel chain and is suitable for use in the most demanding applications.
Stainless Steel Chain & Sprockets
Where water, acids, alkalis, chemicals, high humidity and extremes of temperature are encountered - conditions potentially destructive to ordinary transmission chain - SS chain provides the answer. SS chain completely overcomes corrosion and wear problems normally encountered with standard chain used in such harsh conditions. Remaining impervious to even the most severe chemicals required for cleaning and hygiene maintenance within food and pharmaceutical processing, SS chain offers proven high-performance and maintenance-free life time performance.
The standard series of Stainless Steel chains are manufactured in 304 (18-8) Nickel Chrome steels and are suitable for use in corrosive environments up to 500°C and equally suited to sub-zero conditions.
BS Simplex 8mm, 3/8", ½", 5/8", ¾" , 1" & 1.1/4"
BS Duplex ½", 5/8", ¾" & 1"
ANSI Simplex 25, 35, 40, 50, 60, 80
Cross+Morse offers a wide range of standard attachments K1/K2 and M1/M2 ranges, and custom designed and manufactured attachments to match application requirements. The company's latest investment in CNC machinery also enables them to offer both standard and special design extended bearing pin chains on short lead times.
In addition chains are also manufactured with a range of finishes to suit specific applications, including: Aqua Proof, nickel plated and Molycoated.
To complement its stainless steel chain Cross+Morse also stock stainless sprockets to suit British Standard chains 3/8, ½", 5/8", ¾" & 1".
Stainless Steel Chain & Sprockets Specfications
For the Food and Beverage industries and corrosive environments we stock a range of simplex pilot bore Sprockets manufactured from 304 stainless steel for B.S. chains from 3/8" to 1" pitch, in popular tooth sizes from 13 to 30 teeth. Many of these sprockets can be quickly converted to taper lock design. These combined with our stock Stainless Steel Chain, enable ex-stock delivery of a complete corrosion resistant drive.