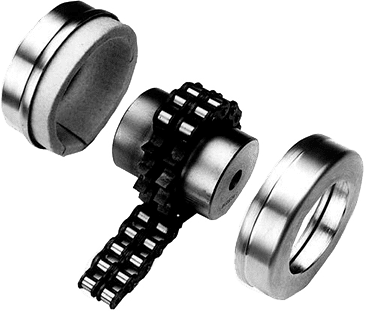 Roller Chain and Delrin® Chain Couplings LRC/LNC

Back to

Category
Roller Chain Coupings and Delrin® Chain Couplings
Standard Roller chain couplings are suitable for low to medium speeds. 2,000 rpm without cover. (5,000 rpm with cover.) High torque capacity Delrin® chain couplings are suited for medium to high speed 100-5,000 rpm range and provide moderate misalignment capability.
Roller Chain Couplings LRC Series
Cross+Morse LRC roller Chain Couplings consist of three high strength components; two special chain sprockets manufactured from high quality medium carbon alloy steels connected by a length of high strength Duplex Roller Chain. The sprockets have precision cut teeth, induction hardened for maximum service life; available either plain bore or machined for taper bores to provide ease of assembly. Size for size an LRC Roller Chain Coupling correctly lubricated is one of the strongest couplings available.
Delrin® Chain Couplings LNC Series
Delrin® Chain Couplings Available in Two Series: N400 Series 1/2 " pitch .2 through 21kW and N600 Series 3/4 " pitch 1.1 through 45kW. Both types are available with minimum plain bore, finished bore with standard keyway and setscrew, or TL taper bore.
Delrin® chain couplings feature the following advantages:
Corrosion Resistant: Where corrosion is a problem, Delrin® Couplings are a must. Pollution-Free Couplings: A neat way to keep things clean. Economical: Cost less to install and maintain. No Lubrication: No dirt catching problems with grease. Quiet: Runs quieter than metal couplings. Safe Smooth outer surface of Delrin® Chain.
Delrin® Chain couplings are ideal for environments where corrosion is normally a problem from atmospheric conditions; for food processing, textile and other machinery which avoids the use of oil or grease; for the safety feature of the smooth outer surface without a cover and for centrifugal pumps and steady load applications.