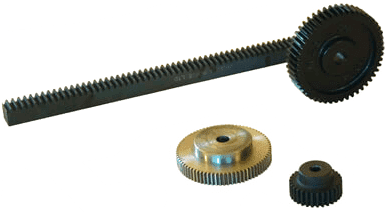 Straight Racks

Back to

Category
Straight Racks
Cross+Morse standard gear racks are manufactured in medium carbon steel suitable for induction or flame hardening if required. The spur racks are precision machined with 20 degree pressure angle, and to be completely compatible with standard range of spur gears have identical face width. The designer is free to select any combination of standard spur gear and rack of same pitch to obtain "off the shelf " rack and pinion sets.
Straight Racks
These provide the ideal method to convert rotary into linear motion for table drives etc. or linear to rotary motion as in feeds. In addition to the standard range of racks special constructions can be provided with pitch size up to 16 mod.
Available in standard lengths of 0.5, 1, 2 and 3 metres is a range of 20° PA straight cut racks with pitch range 1 Mod. to 8 Mod. These are designed to combine with the standard spur gears to provide low cost conversion of rotary to linear motion.
Racks can be supplied modified to enable easy mounting by addition of plain or tapped holes.
Please visit our Spur Gears page for a complete solution.