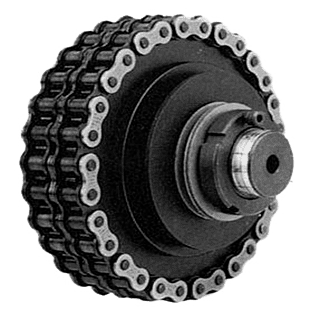 Crossgard Overload Clutches and Couplings

Back to

Category
Crossgard Overload Clutches and Couplings
The Crossgard series of overload protection clutches all use sprung loaded balls locked in detents toprovide drive and overload control. The balls are random positioned in the clutch so drive can only be engaged in one relative angular position between driver and driven shafts, so ensuring full synchronisation of the drive at all times. In the event of an overload the balls are driven out of their detents to release the torque, and cause axial movement of the pressure plate which can be used to actuate a limit switch or proximity sensor to isolate the drive. All units are fitted with a torque indicator to enable simple setting of the desired torque rating. There are three basic types of Crossgard Clutches all of which are available as flexible shaft couplings, types CG, CGX and CGZ.
Type CG Crossgard Clutch
CG Crossgard Clutches are a low cost, simple design suitable for general purpose applications. The clutches provide full overload protection of drives which require synchronisation to be maintained at all times. Following overload the clutches are automatically reset by slow rotation of input drive once the overload cause is cleared. Seven sizes of clutch provide a torque range 10Nm to 7150Nm with operating speeds to 700rpm. Torque settings are accurate to ±10% even after repeated tripping. Also can be supplied with roller chain or elastomeric coupling.
Type CGX Crossgard Clutch
High technology and precision is demanded in indexing and the position of equipment in modern machinery. The CCX Crossgard satisfies the demands for precision and performance and provides overload protection for modern machinery. CGX Clutches through their unique design provide backlash free, fail-safe, overload protection. High precision of trip torque is obtained with settings within ±3% accuracy, and very little motion is lost during tripping. An innovative ball and wedge mechanism is used to prevent backlash, and this is further employed in the coupling version to compensate for angular or parallel error or axial displacement with no loss in torsional rigidity. Five sizes of clutches and couplings have range 1.7 Nm to 785 Nm with maximum shaft speeds of 1400rpm. Units automatically reset after overload by slow shaft rotation.
Type CGZ Crossgard Clutch
The CGX Clutches incorporate a locking mechanism which restrains spring pressure being applied to the driving balls following an overload. Following an overload the input drive can continue to rotate freely enabling the clutch to be used for shaft speeds up to 1800 rpm. After the machine has been stopped following an overload the CGZ can only be reset by applying an axial load on the pressure plate. The clutch can also be used as an on-off clutch. Four sizes have torque range 2.4 Nm to 450 Nm, with accuracy ±10%. An elastomeric coupling is also available.