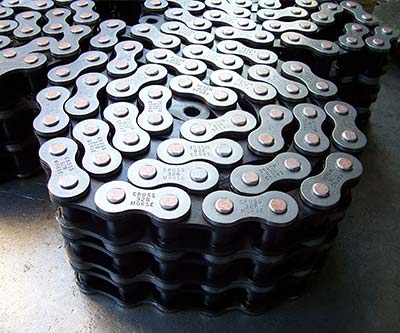 Standard Roller Chains

Back to

Category
Standard Roller Chains
Cross+Morse manufacture and supply precision Roller Chain to ISO Standard types A (ANSI std) and type B (BS Series) over a pitch range of 1/4" to 3" in simplex and multistrand forms. These chains can transmit from fractional powers to over 2500 kW with chain speeds up to 25 m/s. Roller chains offer a number of design advantages.
Cross+Morse Roller Chain Drives Capabilities
Cross+Morse manufacture and stock a comprehensive range of Precision Roller Chain Drives, conforming to both British Standard (BS) and American Standard (ANSI) dimensions within ISO 606; in pitch sizes from 6mm to 3" in simplex and multistrand versions. The chains are capable of handling powers from fractional to over 1000 kW, with operating speeds up to 25 metres per second. Cross+Morse Chains feature higher fatigue resistance and endurance limits achieved by using the latest methods in manufacture.
Pin and Bush Uniformity -Assembly and Pre-Stress
Solid High Strength Rollers -Petrolatum Dipping
Precision Link Plates -Quality Control
Heat Treatment -Easy De-Rivetting
Chemical Blacking -Specialist Design
A very large range of complete standard drives ensures early delivery of drives to suit most installations. Standardisation provides low cost, interchangeability, and availability at all times. For many applications Precision Roller Chain provides the lowest cost solution to drive requirements, with minimal maintenance requirements.