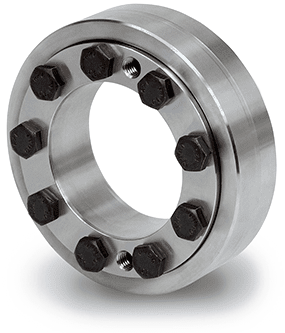 Clamping Elements Type RCK 19/20/25

Back to

Category
Clamping Elements Type RCK 19/20/25
Clamping Elements Type RCK 19 & 20
Types RCK 19 & 20 are normally referred to as Clamping Discs, used to clamp externally onto thin walled hubs to lock them to the shaft. The design permits the use of large diameter shafts with small hub sizes, and is popular for connection of large sprocket and pulleys. The design provides for optimum concentricity, with high torque transmission. A number of shaft diameters can be accommodated by one size of unit, max., min. and an intermediate.
Clamping Elements Type RCK 25
No need for a Torque Wrench with these Clamping elements, just tighten the screws in clockwise sequence in stages until the front faces of the flange and outer ring are aligned. This allows the transmission of torque values shown in the table. This overcomes the problems often encountered where units are either under or over tightened causing failures in transmission. There can also be a time saving in that powered tools can be used for the belt tightening. Increased torque capacities are achieved by the use of larger screws. The single block design automatically provides parallel setting of the parts, thereby reducing the need for dynamic balancing.