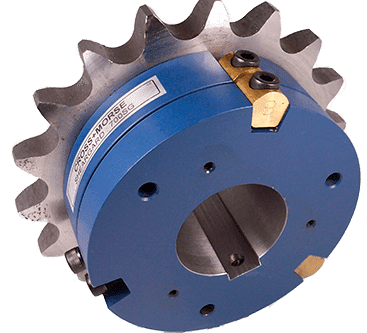 Sheargard Clutches and Couplings

Back to

Category
Sheargard Clutches and Couplings
The Cross Sheargard clutch complements the range of Torque Limiters by providing machinery protection on applications where accurate torque control and shaft synchronisation are necessary; and when in the event of an overload, total disengagement of driving and driven members is required.
Sheargard Overload Clutches
The design of the Sheargard Clutches provides for the transmission of high torques (up to 125,000 Nm) with a compact, low inertia unit. Standard stock products enables prompt delivery, at low cost of shearpin chain sprockets and flexible shaft couplings. The provision of an optional motor monitor plate enables disconnection of the power supply and/or operation of alarm signals in the event of an overload when used in conjunction with a limit switch or proximity switch.
The basic advantages of the well proven wedge shearpin, have been combined with a clutch designed for economic production, with component parts sized to enable the use of the existing range of torque limiter platewheel and chain flexible coupling to enable supply from stock of complete drive assemblies. For higher speed applications a rubber coupling is available.
Sheargard Flexible Couplings
Sheargard Chain Couplings
The standard Cross Sheargard unit combines with the Chain Coupling to provide stock overload couplings with minimum backlash and a high reliability. This construction provides a simple, reliable, easy to assemble flexible coupling capable of transmitting high loads and accommodating shaft misalignment with continuous overload protection. Motor monitor assemblies can also be used to switch off power in the event of an overload.
Sheargard ES & KE Couplings
For high speed drives (over 500 rpm) low inertia rubber elastic couplings are offered to enable quiet operation with torsional elasticity to damp vibration and absorb shock loads. The ES Couplings consists of two close grained cast iron jaws with hard rubber drive elements interposed between them, retained by a reinforced thermoplastic cap. The KE Coupling also has close grained cast iron jaws with a Pebax Polyester elastomeric gear ring interspaced to damp vibration and torsional loads. This series can be provided with taper-bore bushes on the coupling end. The KE Coupling provides a lower cost solution.