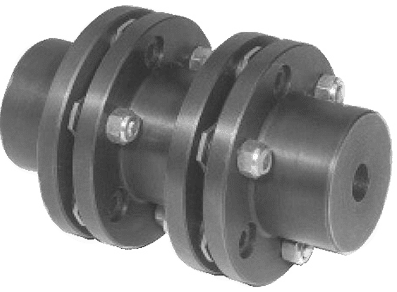 Crossflex Disc Couplings

Back to

Category
Crossflex Disc Couplings
Crossflex disc couplings are particularly suited for drives to pumps, compressors, generators, and paper making machinery operating in poor environmental conditions, as well as the accurate drives on assembly equipment, printing machines and servomotors. The well balanced all steel construction enables transmission of high torques at high shaft speeds, as encountered on turbine drives.
Crossflex Disc Couplings
Three hub designs as well as the option of a spacer provides numerous design possibilities to accommodate space limitations and shafting dimensions.
Crossflex Couplings Performance Characteristics
1) Backlash Free: ensures accuracy of control on all positioning applications, particularly essential for drives with frequent stop and starts, and reversing drives. The use of Shaft Clamping Elements with the couplings ensure a totally positive drive.
2) Torsionally stiff: the disc pack design ensures high torsional stiffness, essential for applications with servomotors, machine tools, assembly machinery, packaging machines and printing presses.
3) High Temperature: the Crossflex Couplings are manufactured entirely from steel, enabling operating temperatures up to 240 °C in difficult environmental conditions.
4) High Operating Speeds: close tolerances, and precision machining provide accurate concentricity enabling high speed operation.
5) Long maintenance free life: The design of the Crossflex coupling ensures there is almost no wear enabling a very long service life. As there are no moving parts within the system no lubrication or maintenance are required.