Cross+Morse has worked together with one of its partners to examine an application for a company specialising in producing wheels for earth moving equipment and heavy machinery. The manufacturer was in need of replacing the gears on an existing machine. The set of gears to be replaced had worn quite badly in a reasonably short space of time, hence it was imperative that both the material and heat treatment specifications were correct in order to increase the operating life of the product and reduce the possibilities of any production downtime.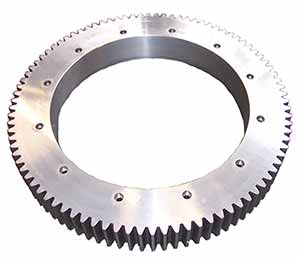 The manufacturing capabilities of Cross+Morse were ideally suited to provide the required solution. Two specialist engineers from the technical department in Cross+Morse visited the site to measure the worn gears, which was necessary in order to check and confirm the information prior to manufacture. The gears were being used on a piece of machinery which had been modified by the end user to 'Knurl' the outer diameter of the hub of the wheel, this would then prevent the tyre from slipping round when in operation. After going over all the data and upon validation, the team at C+M was able to make a recommendation in relation to the material to be used as well as heat treatment processes in order to maximise the strength and wear capacities of the components, and in this way prevent the future premature wearing of the parts.
The gears in question were of 15 Mod pitch, the driving gear having 20 teeth and a 330mm outside diameter, and the driven gear being a 90 tooth and 1380mm diameter; both with a face width of 180mm. The gears were manufactured at Shady Lane in Great Barr, with operations including turning, gear cutting, broaching and drilling. Heat treatment was sub-contracted. All were inspected at the end of each operation, along with a strict final check in accordance with the company's quality system which conforms to ISO 9001.
Another satisfied customer!